STRETCH FILM CONSUMPTION CALCULATOR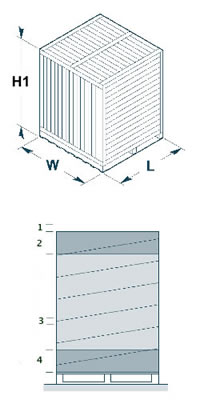 WHY IS IT USEFUL TO BE ABLE TO CHECK THE USED UP STRETCH FILM QUANTITY?
This consumed film quantity calculator makes it possible to calculate the quantity of film you will need to wrap one single pallet on the basis of the usual program or according to the specifications of the packaging technologist. If you know the number of such pallets, you will also get the film quantity needed for the complete task. With the help of this calculator, you will be able to order the film for a given project in advance without the fear that you will run out of it in the middle of the process.
The system is also able to perform comparative measurements (between old and new film type or technology) and it will show you the difference.
When entering the data use the thickness value formerly calculated by our system.
Specify the width, thickness of the film, the perimeter of the pallet (W + L), the height of the pallet (H1), the film overlap of windings (3), the film overrun (1), the number of upper and lower windings (2 and 4) and the wrapping program (single or double wrapping). Besides, add the set pre-stretch value.
Do not exceed the 90% of the maximum film stretching or maximum machine value. This is to avoid underestimation of the quantity. It can occur any time that the film or the machine does not perform at the limit value as expected and the stops because of tearings and the wastes cause more harm than good.
IMPORTANT! Do not change the film density field, only if you know the value! Most stretch films available on the market are made of a raw material having a density of 0.92 g/cm3 . The chance to change this number is only given as some manufacturers use special mixtures for their unique film products. So if you know that the value is different, you can enter it into the system.
If you place your mouse above the info buttons next to the input fields, you can check how to fill in the fields correctly.
Start the calculation process