CHECKING STRETCH FILM BASIC DATA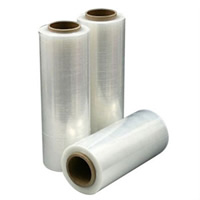 WHY IS IT USEFUL TO BE ABLE TO CHECK STRETCH FILM BASIC DATA?
This calculator makes it possible to calculate the
real thickness of the film you purchased
length of the film you purchased
that the gross/net weight, thickness and length data correspond to each other or not
You will need:
1 pc. of 1 g accurate, max 1kg measuring range scale
1 pc of 0.1 kg accurate scale that is able to measure at least up to 20 kgs
cutting tool and measuring tape
By the entered data, you can calculate the average thickness of the film.
We do not recommend you to buy a film thickness measuring device for 50-70.000 HUF and waste your time to learn how to use is for that you know how thick the film is on that given 2-3mm2 area! This makes no sense! It is especially true for pre-stretched or perforated films as it is almost impossible to define their thickness!
Enter the width, thickness, length, bundle weight and paper core weight specified by the manufacturer and measure the gross bundle weight and the weight of an empty paper core.
Then lay down the bundle on the floor and unwind 10 meters of film from it (be careful and do not stretch the film!). Measure this 10 meter piece and enter the data into the system.
IMPORTANT! Do not change the film density field, only if you know the value! Most stretch films available on the market are made of a raw material having a density of 0.92 g/cm3 . The chance to change this number is only given as some manufacturers use special mixtures for their unique film products. So if you know that the value is different, you can enter it into the system.
If you place your mouse above the info buttons next to the input fields, you can check how to fill in the fields correctly.
Start the calculation process